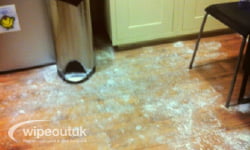 You may need ant control in Blackpool, with warmer temperatures in the offing. At Wipeout Pest Control, UK, we can help you to deal with a variety of annoying and dangerous pests in and around the home or office. We have been in business for the last fifteen-plus years and are proud of the strong ties that we've established in the communities we serve. Being a local business, we understand the issues that plague local home-owners and business-owners. At the same time, we give our customers access to the best of information, materials, products and technology from around the world. Added to this, our standard services include high attention to quality, customised service, affordable pricing and 100% focus on customer needs, preferences and budget. Apart from eliminating pests, we help prevent further attacks.
We conduct a thorough survey where our experienced technicians can identify the species so that we use the right treatment. In Blackpool, ant control can pose problems if you have young children and seniors in the home. Many types of ants can sting quite painfully. If your business premises are being invaded by ants, it can affect your brand value, employee comfort and safety, revenues and customer loyalty. Though garden ants and black ants aren't known to carry disease, they can be a nuisance. You also have no idea where they've been – now that is a hygiene problem. The moment you notice a few of them scouting around your kitchen or office-pantry, pay heed. They could be an advance scouting party or signs of a hidden infestation. Though it may seem like an issue that a homemaker or DIY enthusiast can handle, if you have a large-scale infestation, you do need professional help.
While choosing a pest-control company for ant control in Blackpool, make sure you partner with the right one. We are associated with prestigious organisations like the British Pest Control Association and are listed on the Professional Pest Control Register among others. This ensures that our services conform to the highest industry standards. For assistance with ant control, contact Wipeout Pest Control UK. Our friendly, trustworthy, reliable staff ensure that the operation is smooth and successful.