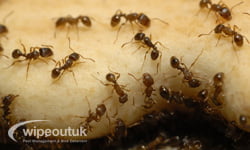 If you need help with ant control in Blackpool, contact the specialists. At Wipeout Pest Control UK, we have more than fifteen years' experience in dealing with a variety of pests for domestic and commercial environments. Apart from prevention, elimination and management, we also provide pest proofing of the highest standard. As a local business, we're proud to offer customised solutions to our clients, along with the best of trends, technologies and products available in international markets. If you have multiple sites that need our services, we are glad to establish attractive service level agreements (SLA). These are beneficial for property managers, city councils, property agents, clubs and hospitality organisations, retail spaces, and commercial businesses apart from individuals and private clients.
Ants are among the most common pests that invade our buildings, and though they're not known to be disease carriers, they are extensive foragers. In Blackpool, ant control has to be done systematically, after a thorough understanding of their habits. They are attracted to food, oily items and sweets, which they usually carry back to their nests. They're known to eat through electrical wires, furnishings and cloth, and may build nests inside the building structures too. In your garden, they're a nuisance as they bite. Children and pets are particularly vulnerable. We conduct a thorough survey to identify the exact species, discover their location and travel routes, pinpoint how they enter the building and also what they're attracted to. We then create a detailed report and discuss with clients on the best possible ways to eliminate and prevent ant infestations.
Ant control in Broughton should be something that's attractive and appealing to them, yet contain pesticide. For immediate elimination we can use eco-friendly sprays. To find out more about our effective ant control, contact us today. Effective pest control methods use a powerful bait which ants consume and carry back to their nests to distribute in the colony. The pesticide is added to the food but it has to be something that the creatures cannot detect. They are very sensitive and promptly reject anything which is perceived as harmful, and also pass on the information to the groups.