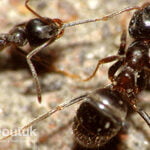 Ants can wreak havoc in the house, and at Wipeout Pest Control UK, we can provide the necessary professional solutions for ant control in Weeton. Ants are insects that live in colonies, in other words, if you find one ant, there's probably a colony thriving nearby. They will generally forage your home and place of business to look for food and find shelter. And their most popular hangout location will be the kitchen. Now, for those who are running a business, especially if it's a restaurant, this could be a serious issue. No one would want complaints about ants in the food from dining customers; this could have serious repercussions on the reputation of the establishment.
While there are many DIY solutions that you could start on your own, when the issue blows out of proportion, you have to get professional help. In Weeton, ant control is a service that we offer both domestic and commercial customers. And when you want to get rid of ants, you will have to remove the whole colony. Getting rid of just a trail of ants does not guarantee a complete wipe-out. If you don't understand the behaviour of ants nor have deep knowledge of how to get rid of them permanently, don't hesitate to get in touch with our professionals. We will start with a thorough inspection of the premises and find out where they are nesting. Following that, we will start with the procedures, normally placing highly palatable sweet and protein-based gels in strategic locations. We have been in the trade since 2003 and have accumulated a wealth of experience when it comes to pest control within the industry. In addition to that, our reliability and desire to meet our customers' needs have helped put us among the best in the field.
Following our ant control in Weeton, you may have to continually be cautious. For instance, eliminate all food sources, keep your left-overs well sealed and packed away. Locate all access points and block them off. For any further information, contact the best pest control company. You can always rely on us for an effective course of treatment to permanently remove the presence of pests from your premises.