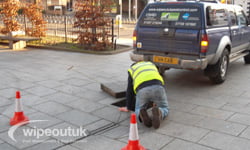 Our top-quality pest control in Bamber Bridge will help you stay safe, comfortable and clean. Wipeout Pest Control UK has more than fifteen years' experience in this business. Over the years we have gained a reputation for excellent services, sensible and affordable pricing options and our total commitment to our clients. No matter how big or small the project, we are glad to be of assistance. We offer the highest standards of quality, response and service. Our team of highly trained, experienced and professionally qualified, licensed technicians take enormous pride in their work. They are friendly and trustworthy and that's an important factor because they have access to your home or office.
We service both domestic and commercial clients, and our services include diagnosis, location of the problem, identifying the type of infestation, elimination, prevention, control and proofing. In Bamber Bridge, pest control services can help you to deal with wasp nest treatment and removal, cockroach and bedbug infestations, woodworm treatment, bird deterrence, wildlife management, and ant treatment. We can also help you get rid of rodents, moles, badgers, and insects. We know that these creatures have the potential to contaminate domestic and commercial spaces, spread diseases, and destroy items in your home. They can get into your food, block drains, cause electrical short-circuits, damage your property and bring its value down, cause fires and flooding. Like the British Pest Control Association tells us, "If you followed a fly for a day, you wouldn't eat for a week!"
It's crucial to use a local service for pest control in Bamber Bridge. This is because they have the experience and knowledge to swiftly identify the pest, give you the right treatment advice and provide safe, effective, affordable services. If you need assistance with pest control, contact Wipeout Pest Control UK today. We are licensed and are members of a number of trade associations. This means that we adhere to industry best practices, give authentic information on cause and prevention, provide regular maintenance contracts where we can inspect and report on new infestation if any. We also help commercial organisations to stay in compliance with regulations and protect the occupants of the building.